The Ultimate Second Wedding…….
Or is it the third?  Or the fourth? ? ? ?

One of the fantastic up-sides of doing a job like ours is the fantastically varied opportunities we are presented with in our day to day business life.  Whether that be making a beautiful dress for a beautiful bride: styling a really unusual photoshoot in a stunning location: or meeting new friends in the industry for the first time.  We are never sure what the next day will bring.
Speaking of new friends, our story starts back in February when sisters Lisa and Jacqueline Bell, owners of the stylish 'Melle Cloche' on Glasgow's Byres Road, contacted us completely out the blue.  The girls had seen our dresses quite a while ago and they said we were the first designer to come to mind when they were contacted by their clients Lisa & Alex.  "Could we borrow a couple of dresses for what will probably be the most romantic/unusual wedding of the year?", they asked.
When we heard the full story we were blown away by the fairytale which was Lisa & Alex's story.
For the details we will pass you over to Alison from 'Plans & Presents Wedding Blog', who followed the couples story……
From a journey that started in July 2011, to March 2013 on the Argyll Coast and a stunning snowy Scottish Wedding, the travels and nuptials of Lisa and Alex are most definitely unusual.  Lisa and Alex, aka 2 People 1 Life are a couple in love, searching for the perfect place to get married.
How? By having a wedding ceremony in each country they visit.  They had always wanted to travel the world in search of a new home, new friends and a future together.  So they decided that they were going to do it, threw caution to the wind, sold all of their possessions and just set off.  They also decided that they would like to get married, possibly whilst on their trip of a lifetime.
They are now on that adventure of a lifetime, and it will see them drive and ship around the globe in their 25 year old camper van 'Peggy', exchanging vows in the most unusual and unique wedding locations they can find.  As they travel, they are looking to embrace the culture and local traditions of each place they visit.
They want to experience the differences in each ceremony and find out what it is that makes the bringing of two people together such a worldwide tradition.  They are also helping Unicef  through people like yourself visiting their Zank You Wedding Registry and donating a small (or very large) amount to the charity!  At the end of the trip they will pick their favourite place and go back to officially tie the knot, and one couple who donate will be invited to their wedding.
Images from the Scottish leg of their adventure was dually captured by Devon based 'Warwick Photography' and the local, 'Crear Photography', who also created a fantastic video memory of the day.
Graham from  'Warwick Photography' said, "When I was asked to drive up to the other end of the country to capture some images of Alex and Lisa I jumped at the chance…. I mean what is there to not like, a couple with an amazing story, snow and amazing landscapes.
"The trip far exceeded what I expected and some fantastic images were captured".
"Alex and Lisa are some of the most genuine nicest people I have had the chance to work with, plus they make an awesome curry."
Local photographer Kate, from 'Crear Photography' obviously is a little more used to the weather which can make capturing images West Coast of Scotland weddings both 'challenging' and 'rewarding'.
"We had been snowed in just a day or two earlier with some of the worst weather in decades.  You can see how Lisa had to keep her socks and shoes on for some of the shots, but in the end we managed to capture some amazing images of the day.  As well as recording what was a really memorable day, the show just how beautiful the local area is, and how lucky we are to live here."
'Creal Photography', as well as being wonderful photographers also produced a fantastic video (below) of Lisa and Alex's Scottish wedding.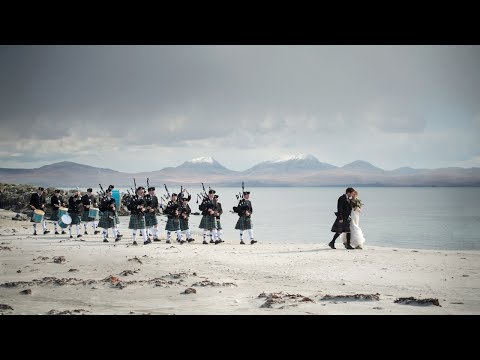 When asked why the couple chose Scotland, Lisa replied, "We chose Crear because we wanted a location near Alex's family hometown.  Alex's Dad was brought up in Campbeltown and we wanted to have a ceremony close to 'home'."
"We also wanted to be surrounded by Scotland's stunning nature. The weather did us a HUGE favour in that we had snow for the wedding (although I could have dressed a little more appropriately) and we also got the typical four seasons in one day but in around 30 minutes!"
"The sun shone, the wind blew, the snow fell and the clouds flew across the sky like time was sped up…it was an incredible day!"
When Lisa was told by Jacqueline and Lisa from 'Melle Cloche' that they had managed to secure a couple of 'Lindsay Fleming Couture' dresses, we are told she was delighted, as she had obviously spent many internet hours researching her wedding marathon.  We never really got the chance to speak but if you read this Lisa, we are delighted that we could be part of your big day.
The two dresses we supplied were 'Clara' from the 'All That Jazz' collection of twenties inspired dresses, and 'Suisan', from our 'Celtic Spirit' range.
As we could not be part of the big day, we were delighted to see such fantastic images later that week.  Graham is obviously a very talented photographer and we look forward to hopefully being involved again with him in the future.
Until that day, please enjoy the following two galleries for a wonderful selection of images of Lisa and Alex's Scottish wedding day
Please also remember that Lisa and Alex are looking to collect an incredible amount of money for Unicef through their Zank You Wedding Registry .  Finally, let's hope that when they choose their perfect wedding destination to finally tie the knot, Scotland is where they choose.  If not, then it must be quite a location to pip us at the post.
Contact Lindsay Fleming Couture
Lindsay Fleming Couture are proud winners of The VOWS Awards, Scottish Bridal Designer, 2006, 2008, 2010, and 2013